It's iPhone day Today!
For the first time, Apple has not just two sizes of its newest iPhone, but two distinctly different iPhones. Yes, this time Apple has launched two different iPhone named iPhone 8/8 plus and iPhone X. When talking about the prices iPhone X is also over 40% more expensive than the iPhone 8, so is it worth the substantial extra expense? Surely, you will get to know about it here!
The most awaited Apple iPhone 8/8plus and X is already ruling the market and started to sell everywhere all over the world.
Forbes has surveyed and found that – Apple is still selling over 1 million iPhone 8's and X's per day.
This clearly tells us, that there is the decision of buying the costly iPhone X has not surpassed one of the lesser rates that are iPhone 8. The idea behind the launch of iPhone X was on Apple's 10th-anniversary. The smartphone went on sale beyond the globe on 3 November, with over thousands of customers queueing to get their hands on this handset which ranges between MYR 5,149.00 to MYR 5,899.00.
There is no denying the fact that with the market getting more and more competitive iPhone manufacturers are producing more and more with each one getting sold in the market. Customers are preferring both the models for buying if you are still confused with which one should you choose to look here.
Let's break it down…
DISPLAY
This launch of new iPhone is a big one, quite literally also its display size. A lot of people assume the X will be an unambiguous slam dunk in this regard, this model has a bigger screen than the iPhone 8/8 Plus also nowhere close to the size of the regular iPhone 8. But this isn't really true, as iPhone X whole model is just screen and no extra space for the body which make it not so big when compared to iPhone 8plus.
iPhone X – 5.8-inch 18.5:9 True Tone OLED, 2436 x 1125 pixels (458 ppi), 82.9% screen-to-body ratio
iPhone 8 – 4.7-inch 16:9 True Tone LCD, 1334 x 750 pixels (326 ppi), 65.6% screen-to-body ratio
The difference couldn't be more stiffer. The iPhone X display is dramatically larger than iPhone 8 but when compared to 8plus size the difference is very minute.
DESIGN
Apple says that the iPhone 8 has a "new design" that expands the boundaries of belief as much as it did when Apple said the same thing about the iPhone 7. This is similar to the change happened to iPhone 6. But what matters is what you think of the tweaks. When looking at the design you will clearly find that iPhone X is the more attractive and beguiling device.
iPhone X – 143.6 x 70.9 x 7.7 mm (5.65 x 2.79 x 0.30 in) and 174g (6.14 oz)
iPhone 8 – 138.4 x 67.3 x 7.3 mm (5.45 x 2.65 x 0.29 in) and 148g (5.22 oz)
Comparing the design of both the model, you will see a major difference. Apple iPhone X is a new style phone which has launched with some new design. Yes, iPhone X is slightly taller than iPhone 8 but it is barely any wider or thicker and only 17% heavier.
PERFORMANCE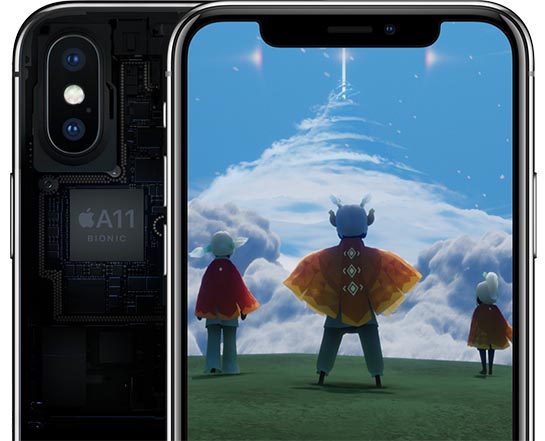 After knowing their looks, they couldn't be more different on the surface. internally, they have same functions and deliver similar performance. Only the thing where it separate is the outside display and design. Only there are very minutes things which separate the two the first one being the Touch ID which is removed from the iPhone X, it has been replaced by something the company claims is just as fast and even more secure that is Face ID facial recognition.
iPhone X and iPhone 8 – Apple A11 'Bionic' chipset: Six-Core CPU, Six Core GPU, M11 motion coprocessor, 3GB RAM (iPhone X), 2GB RAM (iPhone 8)
Thus, this slightly different feature differs both the model from each other. In the iPhone 8, it misses out on Face ID but keeps Touch ID.
CAMERA
All three phones come with Portrait mode, only the iPhone X and iPhone 8 Plus come with Portrait Lighting. This is a new feature that produces studios lightening effects and doesn't require to fill up any other filters using another app such as Instagram.
iPhone X and the iPhone 8 – identical with a primary wide-angle rear 12 megapixel, f/1.8 aperture camera with OIS and a 7 megapixel, f/2.2 aperture front facing camera (no OIS).
Here the iPhone 8 Plus, the iPhone X has identical camera pixel with a 12-megapixel telephoto lens which enables 2x optical zoom. This is great if you wish to zoom pictures at a large distance in good light and is better than the dual camera on the iPhone 8 Plus.
The choice totally depends on you and your budget!
Therefore, if you are looking to buy one of these iPhone, you should study the specification of all the models clearly and also the design according to your taste. Buy it from Lazada where you will get the best variety phone at reasonable prices, you can select according to your preference. Then, choose wisely your phone.