Our gadgets are our partners in comfort and time savers besides, simplifying our tasks.Gadgets have a wide ambit from home appliances, home theaters and laptops to the best of tablets and smartphones to name only a few. These figure in our everyday requirements and one feels incomplete without them. No one knows, perhaps a day also might come when we will have a smart fridge, that would sound an alert when our fish stew is about to get stale or when you want to review your milk stock!
The South-East Asia's leading online shopping destination, Lazada provides you an effortless, shopping feels with their extensive product listing ranging from consumer electronics to home appliance and the very recent from the world of fashion. Make the best out of their massive rebates and discount and voucher codes and varied payments options like cash on delivery and free returns. Scan over the latest offers displayed at CollectOffers, your shopping companion.
Here's our pick of some of the gadgets that will bring a world of difference to your home operations and task management.
Sansaire Sous Vide Machine
Though the advantages of the Sous are tilted more in favor of the non-vegetarians, the herbivores also are not sidelined as there are countless recipes to delight, whichever way your taste buds swings. The entry of Sansaire brings into your home cooking an appliance that is sensibly designed to aid you in making juicy, and tender steaks. Although, sous vide is much in demand for steak enthusiasts, and lets you make moist meat cuts of the type you get at the best restaurants at a quarter of the cost. This Vide machine is very useful for items like poultry, fish, eggs, beans, pork, green vegetable and even sweet dishes and desserts. Sansaire concentrates on the products and the seamless simplicity in aiding the home-cooks to make sumptuous meals with little effort.
LG Signature W-Series "Wallpaper" TV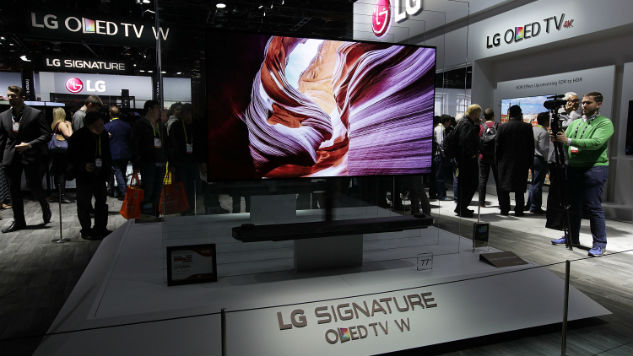 The television makers are in a fix. The present day consumers anticipate latest screens that would make TV shows and films appear fabulous. At the same time, they look forward to the blending seamlessly of such eye-catching displays into their drawing rooms. All this has been expertly performed by LG's W-Series Wallpaper TV as this 65-inch display with a weight of simply 16 pounds and thickness of .15 inches and with a price tag of $7,999 makes it appear as if the screen is sailing on the wall. It is perched on the wall with magnets and you do not need any massive brackets. What really stands out is its Organic LED Technology. Matching the blackest of blacks with vibrant colors, it provides a visually amazing and elevated contrast.
The Pixel Kit
You and your child can create endless pixel art that is programmable with this Pixel Kit and this technique can teach any daring teenager the coding basics by putting 16 million colors before their fingertips. It helps you to become a tool-code skilled kid. Priced at $80, this Kit includes other Kano kits that are crafted to make your kids become more electronic friendly. Visualize it as your next-generation Lego.
Microsoft Surface Laptop

This laptop is an initial start for the Windows creator: a typical laptop that runs a restricted, but greater battery-functional operation mechanism known as Windows 10 S. Microsoft is targeting the Surface Laptop priced at $999 for the educational set, but it will rival with Apple's entrant range MacBook Air. Different hardware creator, in the meantime, will produce Windows 10 S on more affordable devices that can match with Google's Chromebooks. Both the Surface laptop along with the latest edition of Windows show Microsoft will integrate things in the realm of notebook that will surely benefit the consumers.
The interesting hardware's are ever changing and in evolution and in today's world a gadget can also mean a reusable rocket or perhaps or a robot-driven bicycle wheel!